Gathering of the Marques Presented by FCP Euro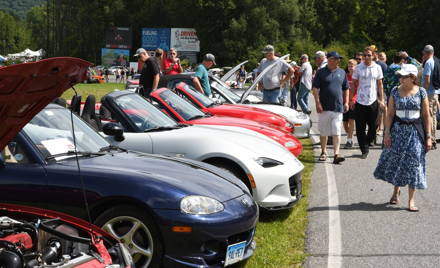 Lime Rock Park Historic Festival - Sunday in the Park
Thursday, Sep 1 — Monday, Sep 5, 2022
Lime Rock Park
,
Lakeville

,

CT
Registration closed August 28, 2022 12:00 PM at 2022-08-28T09:00:00-0700 Registration ends August 28, 2022 12:00 PM at 2022-08-28T09:00:00-0700 Registration opens June 1, 2022 12:00 AM at 2022-05-31T21:00:00-0700 Registration runs from June 1, 2022 12:00 AM to August 28, 2022 12:00 PM
Every year, the Sunday in the Park, Gathering of the Marques displays an incredibly diverse collection of sports, performance, and classic cars, with literally hundreds of cars lining the track, grouped by make, model or country of origin. You'll see Shelbys and BMWs and Corvettes and Jaguars and MGs... Astons, Rolls-Royces and Lotuses... Porsches, Peugeots and Panteras... Volvos and Saabs, Minis, Mercurys, Mercedes and Mopars, Fiats and Lambos. If it's an interesting and fun car, you're probably going to find it on display around the Lime Rock circuit.
This year's Gathering of the Marques is scheduled for Sunday, September 4th and is generously sponsored by FCP Euro. The event is open to both Car Clubs and individuals, but to ensure that we have sufficient space around the track for all entrants, we're asking individual participants to pre-register as outlined below so that we can accurately assign places for each group.
Car Club Reservations
Clubs wishing to reserve their own parking area should have their Club President contact Mike Distefano at the Track Office (860) 435-5000 to register and reserve space on the track. Group discounts are available for Clubs with 10 or more members, but tickets must be purchased in a single bulk order and are not available for individual purchase. Discount rates vary based on number of tickets purchased.
Individual Vehicle Registrations
For individual applications, consistent with the nature of the Historic Festival, cars will be selected based on their fit within specific marques, models, and years, as shown below:
AMC: All models & years
Audi: 1993 and older models
BMW: 1998 and older models
Borgward: All models
Corvette: All models (Honored Marque)
Eastern Block: Any car such as Lada, Volga, Gaz, Uaz, Moskovich, Trabant etc.
British pre1995: Any Bentley, Rolls Royce, Aston Martin, Caterham, British Leyland, Jaguar/Daimler, Sunbeam
EV: Tesla, Lucid, Polestar, Rivian, Hummer EV, Lightning, Bollinger
Ford (including, Lincoln, Mercury): 1995 and older all models
French: Any marque/model
GM (all brands): 1995 and older, all models
Italian: Ferrari (all models), Fiat (pre-1995), Lamborghini, Lancia, Alfa (pre-1995), Maserati (pre-1997), all "Etceterini"
Japanese: Mazda: Miatas (NA, NB), all rotary models; Toyota: A80 Supras and earlier, all Skylines, 2000GT; Honda/Acura: CRX, S2000, NSX, Integra; Mitsubishi: Evo IX and older, 3000GT; Subaru: any WRX; any Kei car
Land Rover/Range Rover: All models pre-1995
Lotus: Any model
Mercedes: 1995 and older models
Mini: Any pre-BMW models
Military Vehicles: Any models
Chrysler/Mopar (all brands): 1995 and older
Motorcycle: Any 1985 and older
Pickup Trucks: Any pre-1998, El Camino/Ranchero, micro trucks
Porsche: 2003 and older
Shelby: All models
Swedish: 1995 and older
Tucker: Any model
Volkswagen: All models pre-1993